Posted by Pure Cosmetica on 19th Jan 2022
Protect your skin's microbiome by simplifying your skincare with our face skincare staples made with natural ingredients and botanical oils – leaving your skin feeling smooth and refreshed.
---
1. Cleanse
Coming across oil cleansing was life changing. The idea of using an oil to cleanse my face was daunting, but after further research, I discovered its amazing benefits and how well it suited so many skin types.
Oil cleansing is a great way to deeply cleanse your skin without stripping it of its natural oils and dissolve excess oils and impurities on the skin.
How to use:
CLEANSE face Cleansing Oil breaks down any makeup, dirt, grime and oil on the surface of the skin. Use two pumps of CLEANSE, emulsify to warm the product up and then apply directly onto your skin. Use morning and night.
---
2. Exfoliate
Your skin naturally sheds its skin cells every 27 days. If dead cells aren't removed during this process, it can result in dull, dry and flaky skin. Regular exfoliation helps to keep your skin silky-soft and smooth by gently buffing away and removing those old dead skin cells.
How to use:
Apply SOOTHE Face Exfoliant to the cheeks, the chin, the forehead and then the nose. Using a circular motion, work the product into the skin. Concentrate on areas with built up dead skin cells and congestion such as the T-zone and the jawline. Use once a week.
---
3. Clay Mask
Clay has been used for centuries as the best method to deeply cleanse, detox, absorb excess oil and provide a hydration boost to your skin. The result? A smooth and glowing skin.
Our two new Face Clay Masks – SOOTHE and NOURISH – are perfect for your Sunday night self-care session.
How to use:
Apply our Face Clay Mask to cleansed face, neck and décolletage. Avoid the eye area. Leave on for 10 to 15 minutes or until dry. Use once a week to maintain a refined skin texture and for excess oil control. Use once a week.
---
4. Face Oils
Face oils are a great way to replenish the skin's dermal barrier, making it more effective at trapping moisture. They also contain a vast array of healing and skin supporting benefits: they are rich in antioxidants, have anti-inflammatory properties, as well as help with skin repair, making your skin feel good longer.
Our Advanced-C Face Oil Serum is perfect for morning use. It contains Vitamin C boost (Tetrahexyldecyl Ascorbate 1%) plus an anti-ageing essential oil blend of 22 oils, including: Joboba oil, Marula oil and Black Cumin oil.
How to use:
Decant ADVANCED-C Face Oil Serum into hands and warm together in your palms. Using a patting motion across your face, neck and décolletage, press the oil into the skin. Use every morning.
---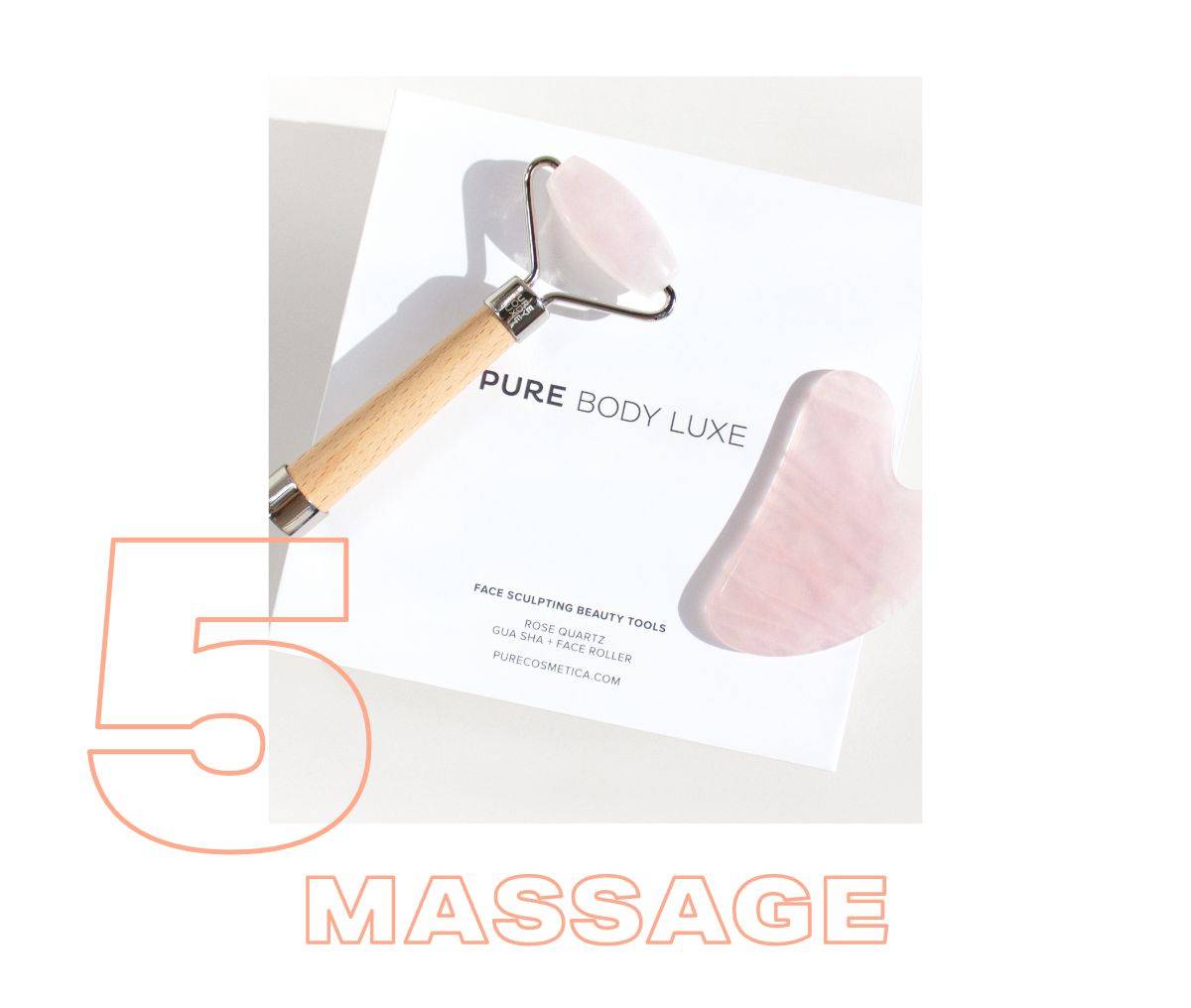 5. Facial Massage
A facial massage using a Gua Sha Stone or Face Roller, helps stimulates blood flow, promote lymphatic system circulation, boosts collagen production, detoxifies, sculpts and improves overall skin texture.
Together they assist with the massaging of skincare products into the skin, whilst amplifying the potency and efficacy of the nutritional benefits of the ingredients.
Using a gua sha stone as a massage tool provides relief to tension in the skin by massaging the facial muscle and deeper dermal layers and assists with the penetration of skincare products, while promoting blood and lymphatic circulation and increasing skin cell turnover.
A face roller assists with massaging our skincare products into the skin while promoting blood flow circulation, aiding with lymphatic drainage, reducing puffiness and water retention.
How to use:
Follow the steps here on how to use our Gua Sha Stone and Face Roller article.